Severe Weather Potential For Texas, Oklahoma, and Kansas Today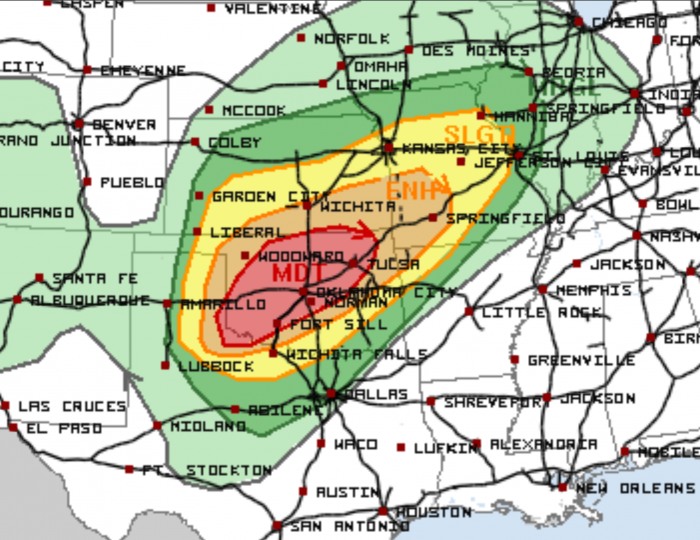 This weekend, residents in Oklahoma, Texas, and Kansas are bracing themselves for a potentially dangerous severe weather event. The National Weather Service has issued severe weather outlooks for much of the region, warning residents to be alert and prepared for damaging winds, large hail, and even tornadoes. A Moderate Risk for severe weather has also been issued by the National Weather Service – Storm Prediction Center.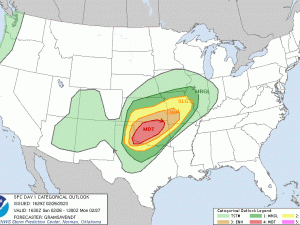 The threat of severe weather in this region is not uncommon, as these states are all located in Tornado Alley. This region, which spans from Texas to South Dakota, is known for its frequent tornado activity, particularly in the spring and early summer months.
This weekend's severe weather threat is being caused by a combination of factors, including a strong low-pressure system moving through the area, as well as warm, moist air being drawn up from the Gulf of Mexico. This will create an environment that is ripe for severe thunderstorms to develop, large hail, and perhaps a tornado or two.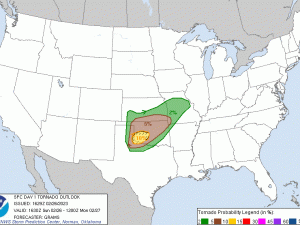 In Oklahoma, residents are being advised to take precautions ahead of the storm, including securing outdoor objects and staying alert for weather warnings. In Texas, officials are warning of the potential for tornados, large hail, damaging winds, flash flooding, as heavy rainfall is expected in some areas. It is assumed all modes of severe weather will be active with Sunday's system.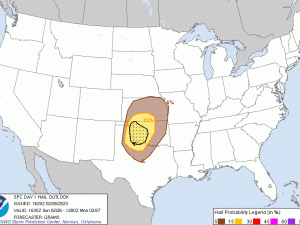 Kansas is also bracing for the severe weather event, with the potential for strong winds and large hail. The National Weather Service is urging residents to stay alert and have a plan in place in case of severe weather.
In all three states, residents are being advised to stay informed about the weather conditions and to have an emergency kit prepared in case of power outages or other emergencies. This kit should include items such as non-perishable food, water, first aid supplies, and a battery-powered radio or cell phone charger.
While severe weather in Tornado Alley is not uncommon, it is important for residents to take these threats seriously and be prepared for any potential emergencies. By staying informed and having a plan in place, residents can help ensure their safety and that of their families during this weekend's severe weather event.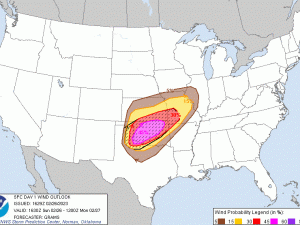 Stay tuned to your local Broadcast and Social Media for emergency alerts, and follow SevereStudios Storm Chasers on Social Media for the most up-to-date information from our storm chasers.